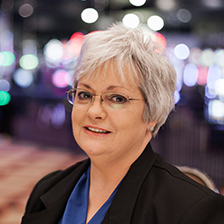 Peggy Randazzo
Peggy began her career at Cypress Bayou Casino in 1994. She truly enjoys being around and meeting new people and will do everything possible to make your visit pleasant and comfortable. She is excited to be a part of guest development as a casino host where she can utilize her previous experience in customer service, sales and management.
"I also enjoy working on in depth research involving various topics, art and photography."
Before starting her career at Cypress Bayou Casino in 1994, Peggy was the co-owner and managed several businesses that include the 24 hour buying and selling of seafood here in Louisiana and overseas, a seafood processing plant, grocery store, State Park entertainment rentals, a consignment sales store along with several other business ventures during the mid 1970's through the 90's. When Peggy is away from the casino she enjoys spending time with her husband, Keith, who is such a pleasure to be with.
Contact