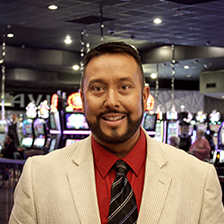 Brock Armand
I am originally from Marksville, LA where I was raised by my grandparents. My first job out of high school was working as a valet attendant at Paragon Casino Resort where I later transferred to the Tour and Travel department. I was later was promoted and became a Sales Rep of the Marketing Department. After leaving Paragon, I earned a degree in Business Management, with a major in marketing. After earning my degree, I worked as a casino host at Evangeline Downs. I have many wonderful memories and experiences of players who truly made my job exciting and entertaining.
"I love working at Cypress Bayou Casino because of the "frienergy" I feel from fun-loving players and the dynamic staff."
In 2008, I moved to Las Vegas where I had an amazing time meeting new people from all around the world. The transition in relocating to Vegas was terrifying and exhilarating at the same time. I definitely enjoyed the lifestyle of living out west. The nightlife, weather, shows, trips to Los Angeles…Wow, what an experience; Embracing a lifestyle and city like Las Vegas definitely inspired personal growth in my quest for "self-discovery."
In 2013 I was ready to return to my roots and reconnect with the friends and family. My sister Amie is my best friend, and we have an amazing relationship; she inspires me to always strive to be my best. I love my niece Harmoni, who always appreciates me for being young at heart.
Everyone here has welcomed me with open arms. My personal goal is to strive in offering top quality customer service in hopes that all my VIPs feel like Brockstars! I am very appreciative and proud to be part of the Cypress Bayou Casino family.
What some people may not know about me….One of my personal dreams is to perform with a dance team to Michael Jackson's "Thriller" in front of a live audience!
Contact